The heavens declare. The mountains declare. The valleys declares.
After a very intense few months, we decided to escape for a weekend to somewhere open, beautiful and where we could breathe deeply without covering our faces. We left on the Thursday afternoon. The drive started in the city and gradually became more and more barren and wild with some farms and small communities along the way. It's amazing how it seems easier to breathe just by being in wide open spaces, surrounded by what God has made, rather than man. It's like our minds and hearts expand to let Him in rather than all the distractions we have created (intentionally or not) to separate ourselves from Him.
God's wonder in every season
After a slow 3 hour drive we arrived at our friend's farm in Montagu, in the heart of the Koo valley.
We took our bikes with us and went for a ride on Saturday morning. There was a lot more up-hill cycling than I anticipated but it all felt worth it when we got to a spot where we could look over the valley. It was at this point that these words came flooding into my heart: the heavens declare, the mountains declare and the valley declares Your glory! All of creation is glorifying God, His wonders and I felt so in awe as I looked out from where I was standing and felt caught up in the wonder of it all.
Afterwards, I started thinking about those words and it reminded me that every season of life holds within it the wonder of God and His glory. Whether you are on the mountain, flying high in the heavens or in the lowest low of the valley, God is at work. He is displaying His wonder and glory in every season, if we would only acknowledge His presence and look to Him. Oh the wonders we would see. Oh the glory we would behold!
There is something incredible about being surrounded by mountains. You feel so small in the presence of their greatness.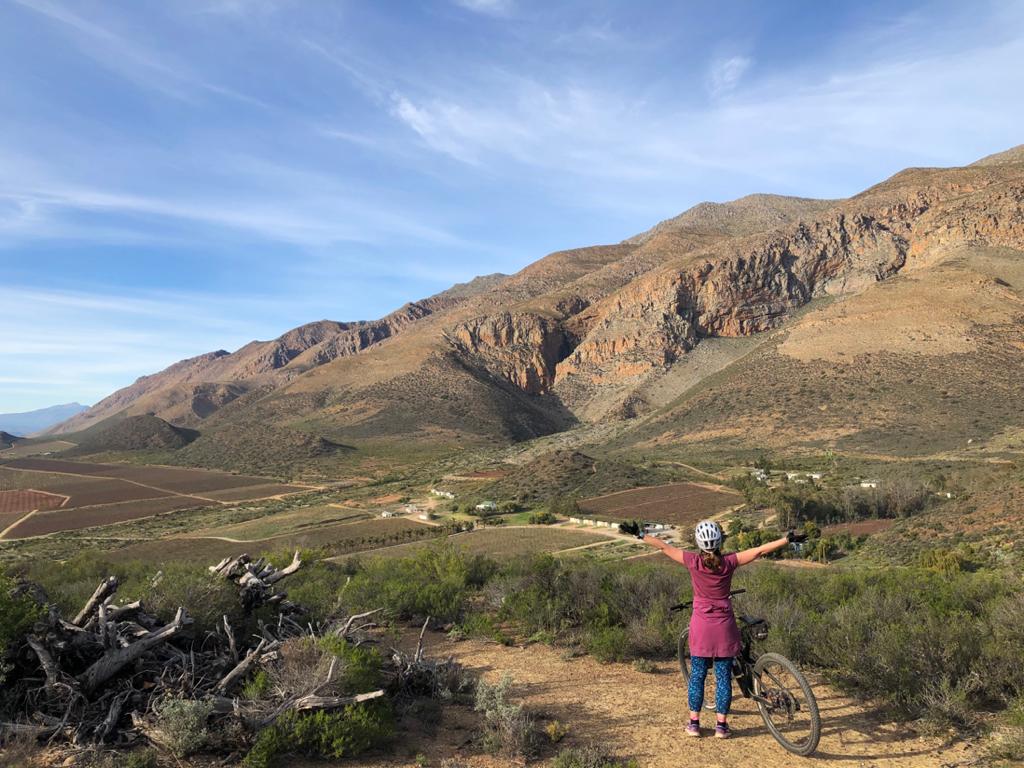 Running with God
We went for a run on Sunday morning and I was so grateful for the shade the mountains provided. They created such a large shadow that it filled most of the valley. It meant running with the cold air brushing over us rather than in the heat of the blazing sun. I want to run like that with God; in the shadow of the shade He provides. He creates for us a safe place where we can find refreshing and be held. He covers us with His wings. I was aware of God's protection as I ran. The mountains towered up on each side of me and I felt the closeness of a Mighty God who is greater than the mountains yet close enough to hold me, still my fears and remind me that I could never run far enough that I would not be in His hands. His hands are big enough to hold it all. Big enough to carry you, to hide you, to give you rest.
"Where can I go from your Spirit? Where can I flee from your presence? If I go up to the heavens, you are there; if I make my bed in the depths, you are there. If I rise on the wings of the dawn, if I settle on the far side of the sea, even there your hand will guide me, your right hand will hold me fast. If I say, "Surely the darkness will hide me and the light become night around me," even the darkness will not be dark to you; the night will shine like the day, for darkness is as light to you."
Psalm 139:7-12
Take a moment, and revel in the glory of God's creation and allow Him to speak to you of His wonder, majesty and power through it. Find rest and security in Him as you take a breathe of fresh air in this uncertain season.
If you'd like to pray with someone, please get in contact with us on +27 71 763 3810.
Written by Taytum Allwood. Read her article – The Heavens Declare.
---