I'm sure you must have heard about 700 Club Nigeria before. Whether on TV or radio, social media or from a friend, 700 Club has become a household name in Nigeria. The organization has been operating in Nigeria since the early '90s and has gained a reputable image since then.
A Little About 700 Club Nigeria
700 Club Nigeria is a non-profit organisation passionate about being the hands and feet of Jesus in a love-starved world. We give food to the hungry and clean water to thirsty communities. We provide free medical treatments/surgeries for the sick and organise empowerment programs for the unemployed. But that's only a fraction of what we do.
We have over five locally-produced TV shows crafted for different audiences. Our producers pack these shows with life-changing, soul-edifying content to lift your spirit in prophetic words, testimonies and ministrations to address various facets of life.
We also have a 24/7 Prayer and Counselling line. You can call at any time of the day; there's always someone here to answer (even on holidays.)
5 Easy Ways To Partner with 700 Club Nigeria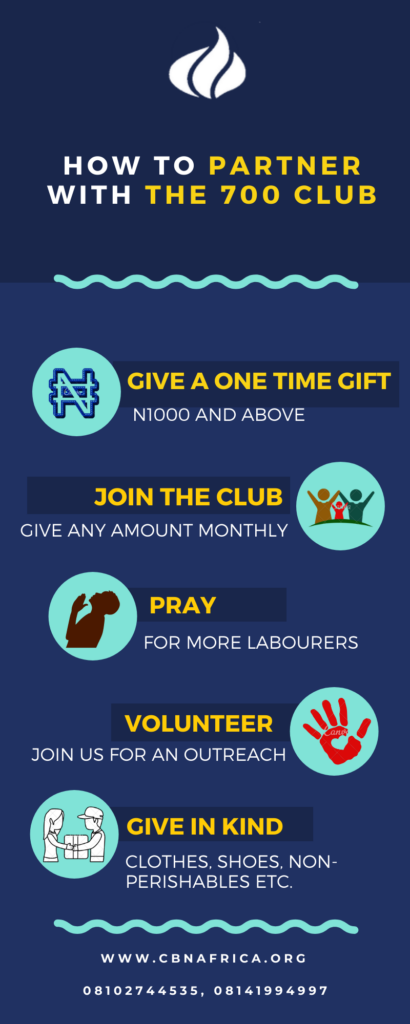 All these and more are made possible by our 700 Club Partners, men and women who dedicate their time, effort, and resources to see God's work succeed in our hands. I invite you to join us today. So in this post, I share five easy ways you can partner with The 700 Club Nigeria.
Give a One-Time Gift of Any Amount
We try our best to make it easy for everyone to partner with us in this work. So with a one-time gift of N1000 and above, you can contribute your quota to bringing light into the darkness of poverty that can be seen all over Nigeria. We believe that what one individual might be unable to accomplish (on their own) is possible when many put their resources together.
Join The Club
Members of 700 Club Nigeria commit to giving any amount of their choice monthly. It is more than donating just one time, so we encourage you to pray and ask for the Holy Spirit's guidance before taking this step. However, if you feel dissatisfied at any point after joining, you can opt out whenever you want. No questions asked. Kindly fill the form on the page linked below to join us.
JOIN THE 700 CLUB NIGERIA TODAY
Pray
The task of reaching out to the needy and sharing the love of Jesus is getting harder by the day. Many have closed their hearts to the truth, blinded by lies. So we know that our work is more spiritual than physical, and we need your cover in the place of prayers. You can commit to praying for 700 Club Nigeria daily. Sign up for our prayer list to receive weekly prayer requests and testimonies.

Prayer Partners
Would you like to pray with The 700 Club Nigeria? Sign up to receive weekly prayer requests and testimonies.
Volunteer
700 Club volunteers are God-adventurers travelling through thick and thin, forests and mountains, hills and valleys, seeking out the needy and doing what Jesus would do. To become a volunteer, you must first become a member of The 700 Club. We put this clause in because we want to travel with people we can trust. To volunteer, kindly send an email to 700clubpartners@cbnnigeria.org.
Give in Kind
From clothing to non-perishable food items, we receive donations of all kinds. We distribute these items during our various outreaches. Please note that all items donated must be in excellent condition. To give in kind, kindly send an email to 700clubpartners@cbnnigeria.org.
Conclusion
There you have it! You can give a one-time gift, become a member of The 700 Club, pray with us, volunteer your time or give in kind. Whatever you do, don't wait any longer. Start partnering with God through the ministry of The 700 Club Nigeria today!
---