Most mornings I sit and stare out of my window with my cat, Nemo, we enjoy the view and the quiet time before the day starts. [photo] He's permanently at my side and loves having little chirping chats with me. It's one of the sweetest things! Hearing his little tweets (Maine Coons are known for their bird-like chirps) and feeling his constant warmth and companionship makes my heart so happy. A down day is a little less down with him.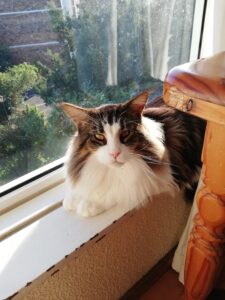 It's a similar warmth I feel when I'm having coffee and chatting with some of my closest friends, when I spend some quality time with my fiancé, or I go to my parents for a family dinner. These bonding experiences leave me with a deep, enriched feeling.
During lockdown I truly missed those deeper experiences with my closest people. Sure, I had Nemo and I really appreciated the fact that I had a feline companion when I couldn't have human companionship. But it's not the same and I really craved human face-to-face interaction.
Connecting with God
I've recently realised that I've become a lot more extroverted than when I was younger. I still don't like crowds and groups, but I thrive off keeping busy with a few close friends. With my primary love languages being physical touch and quality time, connecting with people helps me in my connection and relationship with God.
Let me explain.
Those moments where you truly feel God's presence surrounding you are absolutely life changing. It enriches like nothing else can. It fills you with peace, joy, strength, confidence and love. It propels you forwards and fills you up. It's incredible. I love it. I love my quiet mornings of staring out my window, Nemo at my side, and I feel the gentle presence of our Father.
But when I become too disconnected from human companionship, I feel the disconnection from God too. The more I get to know about God's character, the more I've seen glimpses of Him in His children -all of us. Moments with people remind me of God's goodness and His love. The love I experience from my family, friends and fiancé s all possible because of the love of our Father. The tangible love from these encounters make the moments with God seem more tangible. And I believe this is how God wonderfully created us – to thrive within connection and community.
Connecting Intentionally
As we reach the end of 2020, looking back at all that has happened, I know two things with absolute certainty – I'm going to cherish the moments with my loved ones as we celebrate Christmas and being on holiday together, and I'm going to fervently seek and revel in the moments that I feel God's tangible presence. Each quiet moment staring out the window with Nemo, the car drives with Him, the glimpses of Him in His people and the revelations through His word.
I'm truly thankful that God created us with the innate need to fellowship. It teaches us more about Him, it fills us with love and it keeps us connected with Him. My challenge to you is to make the most of all the intimate moments with loved ones, seek out people who you haven't heard from in a while and pray with and for those who may be lonely during this season.
May your last chapter of 2020 be full of happy connection moments and filled with the loving presence of God!
---