We aim to provide children all over Africa with an exciting, media reach and immersive experience of the Bible that profoundly impacts their character and spiritual development.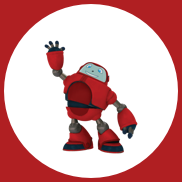 Gizmo – our number one champion!
God is using Superbook all around Africa in the most incredible ways!
Why don't you become a Superbook Champion? Contact your nearest local office to find out how you can use Superbook to powerfully impact the next generation in your community!